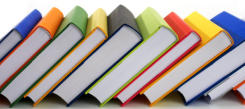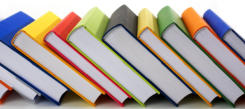 About the Institute
Providing Right Guidance to Bright Careers since 1984
Started in the year 1984, Anugraham Classes,
has over the years, made triumphant strides in
the field of education. We are today acclaimed
as one among the leading institutions offering
special coaching par excellence for students
appearing for the Joint Entrance Examinations
(JEE Main conducted by the CBSE and JEE
Advanced conducted by the Indian Institutes of
Technology-IIT).
The Engineering education given by the
IITs/NITs/IIITs is deemed as one among the
best all over the world. And admission to one of
these top institutes through the JEE is a
hallmark of distinction that one can aspire for. It is needless to say that we have a
number of students who have passed out of the IITs and are presently positioned
as top ranking executives all over the world.
Behind all these achievements is the team work of our excellent, highly regarded
and respected faculty who, with their vast experience in coaching hundreds of
students over the years bring laurels to our Institute year after year.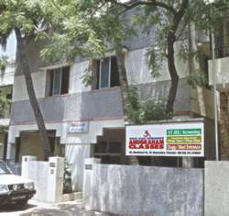 Founder
Prof. V. Gosakan
Our Founder,

Prof.
Vijay Gosakan
(1932-99), was
Professor of
Physics

, with a rich
background of
academic
excellence. He is the
author and the
reviewer of
numerous text books at the school and
college level.
His untiring work and dedication has made
possible what Anugraham is today - an
Institute that is known for its stature and
an Institute that promises today's students
a bright and prosperous tomorrow.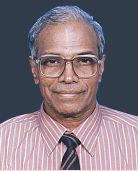 Counselling Sessions
Parents who meet us to put their ward for coaching always
leave our premises with plenty of information. Our vast
experience in teaching for the JEE as well as the school
syllabus to hundreds of students has always put us in a
better position to advise the ever anxious parents and to
provide the right guidance to the aspiring students.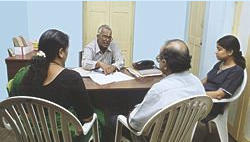 Ideal Classroom Conditions with Expert Guidance
The classrooms are well lit and ventilated with
comfortable seating arrangements, making the place
an ideal one for study. Professors who have been
teaching for JEE and School Syllabus for many
years guide our students. They are not only teachers
but are also friends, philosophers and guides and
hence are easily approachable by any student.
Doubts, if any, are clarified by the respective
Professors. A student has to merely approach a
Professor and ask the specific doubt. This one-to-
one interaction goes a long way in the student gaining confidence on the subject and on the teacher to make him move ahead.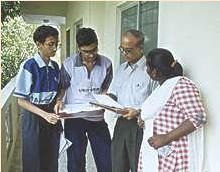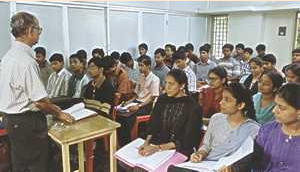 Library Facility
The in-house library is
a boon to our JEE
students. Lots of good
books from reputed
publishers in
Mathematics, Physics
and Chemistry give
plenty of problems
and ideas to the ever-
craving student if he
needs those extra
inputs.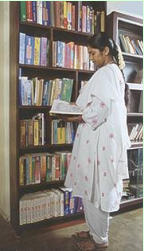 Regular Tests, Valuations and
Feedback
Anugraham constantly monitors the performance of
each and every student by keeping regular tests
and reporting the performance to the parents. This
helps in knowing how a student is progressing and
what corrective action can be taken in cases where
the performance is not satisfactory.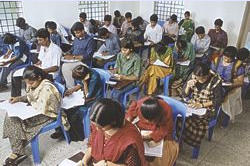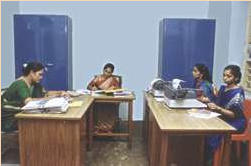 Support Staff
Well-trained staff are available all through the day (10.30 a.m. to 7.00 p.m.)
for running the Institution. Right from replying to enquiries from parents and
prospective students, counselling parents and students, admitting and
guiding the students, preparing students' attendance details to preparing
the study materials with constant interaction with the Professors - it is a
system that is well in place to provide the right support for every deserving
Anugraham student.

Experts in JEE coaching since 1984

Ensure that you are an ACHIEVER and not just a DREAMER
Contact
Chennai :
Mrs Radha Raghavan - Director or Mr G. Raghavan
ANUGRAHAM CLASSES, 20 Manikkam Street, West Mambalam, Chennai - 600 033. India.
Tel: +91-44-2474 9441. Cell: 98843 06136.
E-mail :
raghavan@anugraham.com
Secunderabad :
Mrs Geetha Ragunathan
301, Disa Crown, Mahalakshmipuri Colony (Excise Colony), Yapral, Secunderabad 500 087.
Ph : +91-40-65354089, 97043 66715.
CLASSROOM COURSES CONDUCTED ONLY AT CHENNAI
The Institute is located off Jubilee Road/Station Road near Mambalam Railway Station in serene surroundings.
It is also well serviced by Bus Routes.
There is NO hostel facility. Rooms are available near the Institute.
Copyright © 2000-2016, Anugraham Classes, Chennai 600 033, India.